Residential Construction Project Information Form (Sample)
Residential Construction Project Information Form (Sample)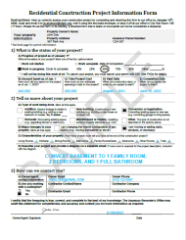 Each year the Assessor-Recorder is required by the State of California to value all in-progress new construction. We mail a letter to property owners that have an open permit for new construction as of January 1. This form is for you to tell us what the status of your project is and how much has been completed.
The Assessor-Recorder is required to determine the assessability of all new construction and, if assessable, to value all new construction in progress on each January 1st taxable lien date.
The In Progress New Construction Assessment diagram illustrates the process.
Last updated: 12/19/22