Commercial Fishing Boat Exemption
Commercial Fishing Boat Exemption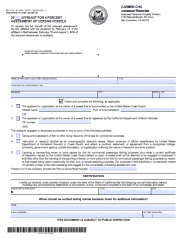 Documented vessels used primarily for commercial fishing operations or oceanographic studies should use this form to file with the Assessor.
Revenue and Taxation Code section 227 states: "A documented vessel, as defined in Section 130, shall be assessed at 4 percent of its full cash value only if the vessel is engaged or employed exclusively in any of the following:
In the taking and possession of fish or other living resource of the sea for commercial purposes.
In instruction or research studies as an oceanographic research vessel.
In carrying or transporting seven or more people for hire for commercial passenger fishing purposes and holds a current certificate of inspection issued by the United States Coast Guard.
Last updated: 2/13/17