Immigrants And Seniors Find Family Wealth Forum Useful in Building Their Financial Futures
Immigrants And Seniors Find Family Wealth Forum Useful in Building Their Financial Futures
*** PRESS RELEASE***
IMMIGRANTS AND SENIORS FIND FAMILY WEALTH FORUM USEFUL
IN BUILDING THEIR FINANCIAL FUTURES
San Francisco, CA – Close to 300 attendees participated in the 2nd Family Wealth Forum hosted by San Francisco's elected Assessor Carmen Chu at Abraham Lincoln High School on March 24, 2018.
According to the event report card, 133 families received one-on-one counselling session with financial experts, including estate planners (40%), Assessor's staff on ownership change (25%), tax experts (19%) and financial planners (16%). Among those families, 77% were 50 years old or above and 23% spoke a language other than English.
The trilingual workshop on estate planning, affordable homeownership opportunities and property tax savings were also very popular, with close to 100 people attending on average. Spanish and Chinese interpretation were provided at all the workshops.
For more information on the Family Wealth Forum, please visit www.sfassessor.org/familywealthforum.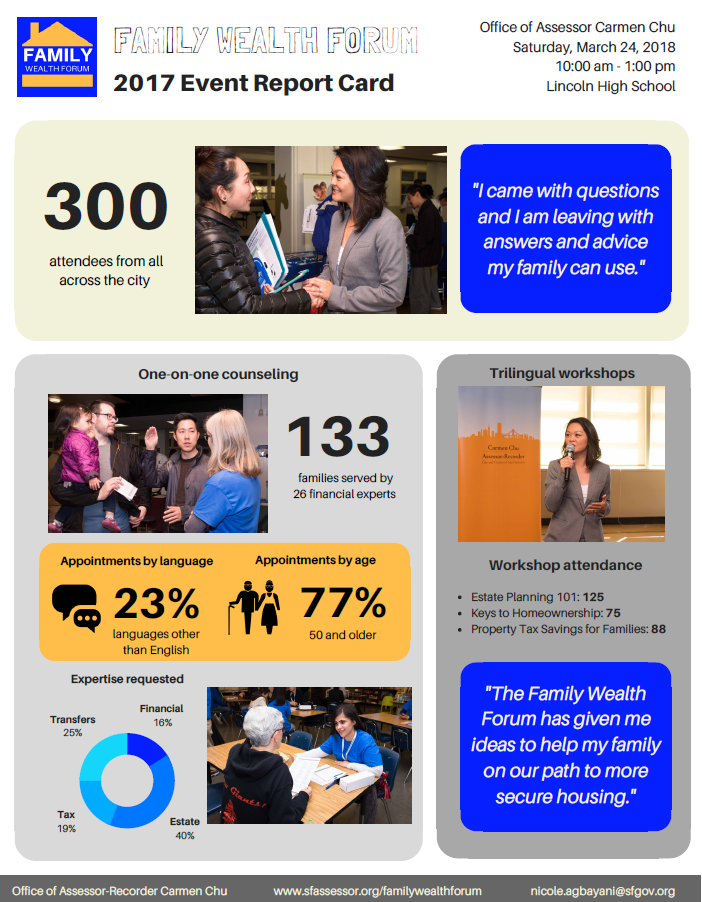 ###