Disabled Persons Claim for Transfer of Base-Year Value to Replacement Dwelling
Disabled Persons Claim for Transfer of Base-Year Value to Replacement Dwelling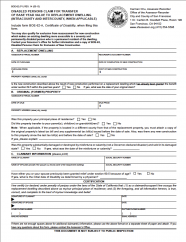 NOTE: In November 2020, California voters passed Proposition 19, which makes changes to property tax benefits. Please visit the Proposition 19 resource page for more information.
Use this form if both the sale of the original primary residence and the purchase or new construction of the replacement primary residence occurred before April 1, 2021. For base year value transfers under Proposition 19, please use BOE‐19‐D. See Related Content.
Submit the completed Disabled Persons Claim for Transfer of Base Year Value to Replacement Dwelling form along with the Certificate of Disability (form BOE-62-A) to the San Francisco Assessor-Recorder Office. The Certificate of Disability form, section I must be completed by a Physician.
Incomplete forms will be denied.
This is a one-time tax benefit.
Submission Deadline: Within three years of the transfer to the replacement property. As of January 1, 2007, a claim that is filed after the three year filing period may receive the benefits commencing with the lien date of the assessment year in which the claim is filed. The full cash value of the replacement property in that assessment year shall be the base year value from the year the property was transferred, factored to the assessment year in which the claim is filed. The factored base year value of any new construction which occurred between the date of sale and the date of prospective relief is being applied should also be added.
Last updated: 4/20/21