Family Wealth Forum - September 30, 2017
Family Wealth Forum - September 30, 2017
Submitted by

Vivian.Po

on Fri, 07/28/2017 - 18:05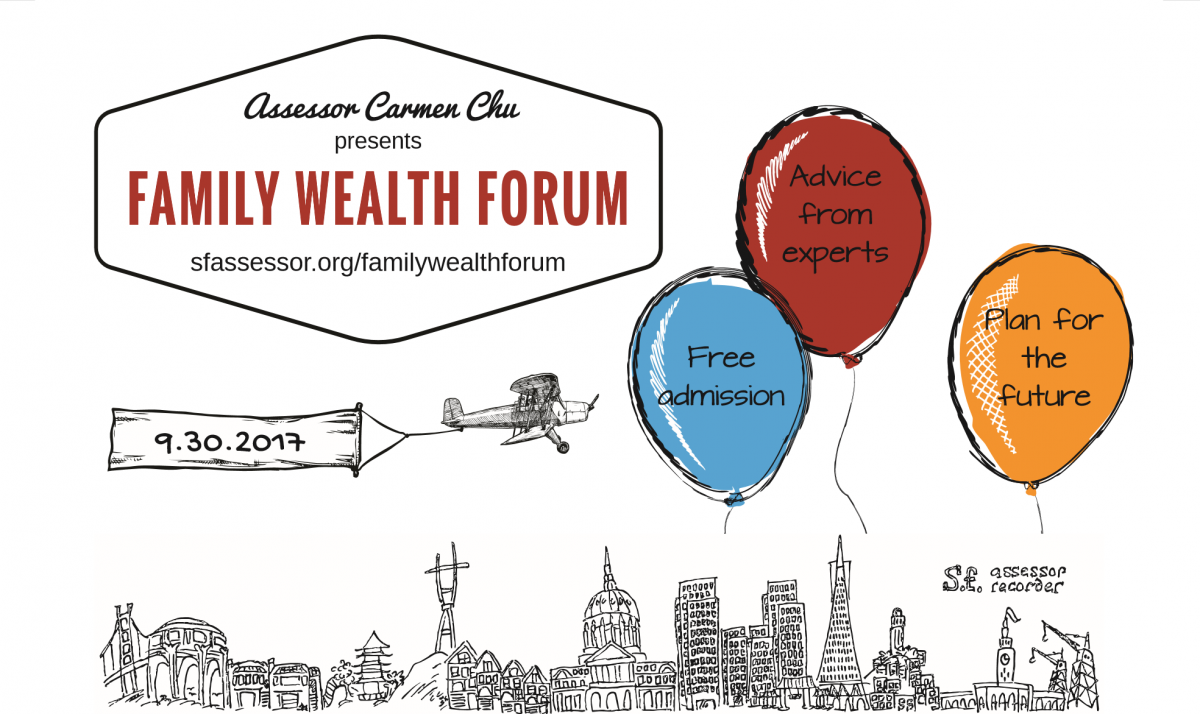 Do you have questions about estate planning and someday passing your property to your family and loved ones?  Are you interested in builidng your family's assets and looking for advice on where to begin? Come check out our free educational forum!
At the Assessor's Office, we understand your home can be your biggest asset in life, but laws around inheriting properties can be complicated.  It is never too early to start planning!
Come join our free Family Wealth Forum to find out what you need to know about estate planning, along with tips and skills to help build your family's wealth.  Estate planners, financial planners, and tax experts will be here to answer your questions.
Click here to register today!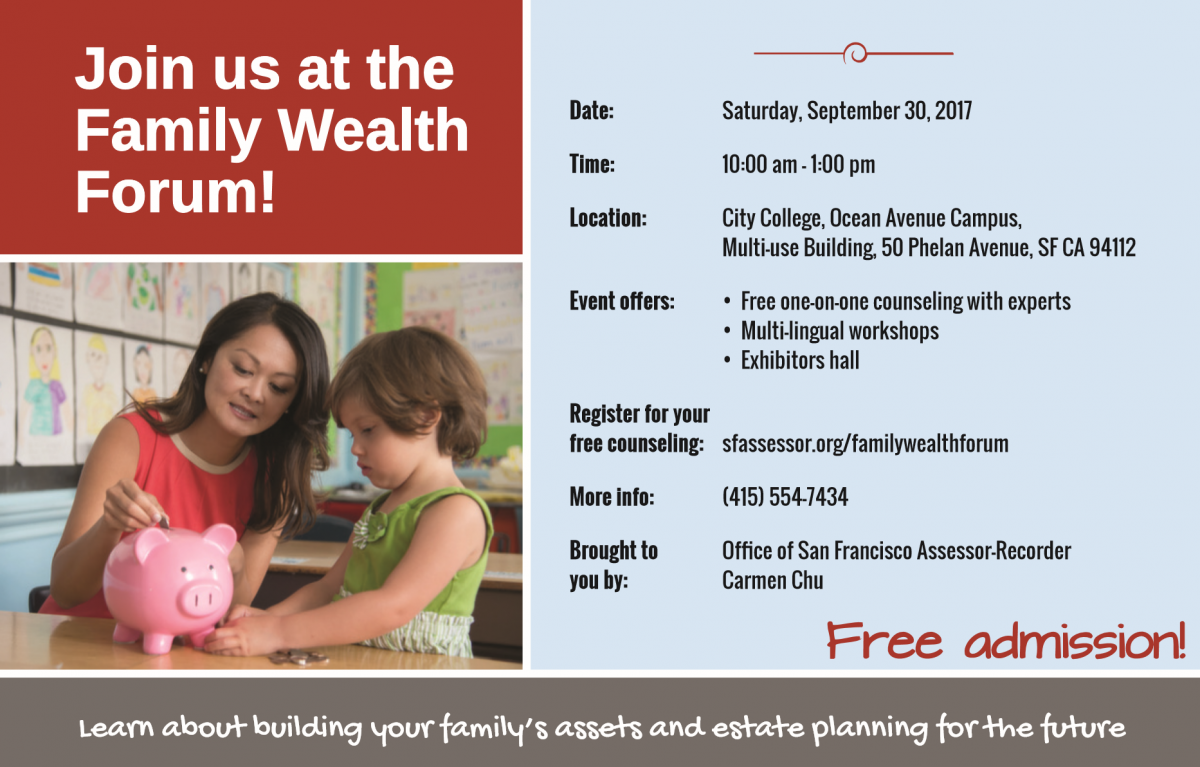 Workshop Schedule
The Family Wealth Forum will offer a series of free, multi-lingual workshops. All workshops are free and open to the public!
Please note, languages for each workshop are listed in the workshop description. 
10:15 am – 10:45 am

Estate Planning 101

 

Presenter: Aeyoung Kim

Housing and Economic Rights Advocates

Language: English

 

Yes, You can Buy a Home in San Francisco: Keys to Affordable SF Homeownership

 

Presenter: Jeanne Lu

Mayor's Office of Housing

Language: Cantonese

 

11:00 am – 11:30 am

 

Estate Planning 101

 

Presenter: Aeyoung Kim

Housing and Economic Rights Advocates

Language: Bilingual, English/Cantonese

 

 

Yes, You can Buy a Home in San Francisco: Keys to Affordable SF Homeownership

 

Presenter: Sonia Delgado-Schaumberg

Mayor's Office of Housing

Language: Spanish

 

11:45 am – 12:15 pm

 

 

 

 

Estate Planning 101

 

Presenter: Aeyoung Kim

Housing and Economic Rights Advocates

Language: Bilingual, English/Spanish

 

 

 

 

 

 

Property Tax Savings for Families

 

Presenter: Vivian Po

Office of Assessor-Recorder Carmen Chu

Language: Cantonese

 

 

12:30 pm – 1:00 pm

 

Property Tax Savings for Families

 

Presenter: Vivian Po

Office of Assessor-Recorder Carmen Chu

Language: English

 

 

 

Yes, You can Buy a Home in San Francisco: Keys to Affordable SF Homeownership

 

Presenter: Maria Benjamin

Mayor's Office of Housing

Language: English