Informal Review Request (online)
Informal Review Request (online)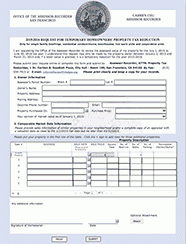 If you believe your property assessed value is higher than the market value, you may request an Informal Assessment Review between the dates of January 2, 2023 – March 31, 2023.  This only applies to single family dwellings, residential condominiums, townhouses, live-work lofts, and cooperative units.
To use the Access Form button below, we recommend using Chrome as your browser. However, if you are still unable to access the form, you can go directly to the Online Form here.
Online submissions are preferable, but alternately you may send your request to: San Francisco Assessor-Recorder's Office, Attn: Informal Review, 1 Dr. Carlton B. Goodlett Place, City Hall, Room 190, San Francisco, CA 94102. Fax: (415) 554-7915 or e-mail: InformalReviewRP@sfgov.org. Be sure to keep a copy for your records.
Last updated: 12/31/22